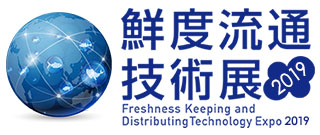 What is "Freshness Keeping and Distributing Technology Expo"?
Nowadays, freezers and packaging equipment that can maintain freshness over a long period of time by activating cells and controlling temperature by moisture control are attracting attention. By introducing such state-of-the-art technologies in a single place, we will encourage informative exchanges between producers and logistics companies, and will aim to expand exports of excellent marine products that Japan is proud of worldwide and strengthen international competitiveness.
Event Outline

Event name
"Freshness Keeping and Distributing Technology Expo 2019"
Exhibition period
August 21 (Wed) ~ 23 (Fri), 2019
Venue
Tokyo Big Sight
Application deadline
June 28, 2019 (Friday)
Co-event of "The 21th Japan International Seafood Show"

Exhibitors

Frozen and refrigerated equipment
Freezing / refrigerating equipment, thawing technology, ice making equipment, etc.

Packaging / Logistics equipment service
Packaging materials considering food packaging machinery, cushioning materials, packaging materials, environmental protection etc, sterile / antimicrobial packaging technology, labeling machine, conveyor, temperature management transportation technology, humidity management transport technology, aviation container, offshore container, etc.

Equipment and services for HACCP countermeasures / Food hygiene control equipment/ technology, Sterilization water production equipment, Sanitation management material, Food inspection, Quarantine technology, Food hygiene inspection institution, Food traceability technology, Halal consultant, etc.

Management technology for transportation time and efficiency improvement
Shipment / loading situation management technology, consolidated transportation service, inventory control technology, delivery vehicle management technology, small-lot loading pickup service, round trip management technology, etc.

Other
Local exporters of low-temperature logistics and export consultants, etc.






Visitors

Department store, mass retailer, supermarket, co-op, convenience store, fresh fish store, mail order, TV shopping, Internet sales, etc.

Restaurant, Japanese formal/ traditional dining, Western restaurant, Chinese restaurant, Izakaya, other restaurant, etc.

Market, brokerage, fishery wholesale / brokerage, food wholesaler, trading company, supermarket for business, wholesale, logistics industry, etc.

Catering, lunch box shop, etc.

Hotel, inn, galleries, etc.

Government, academic institution, other food stakeholders, etc.